About the Owner
Brooke Andry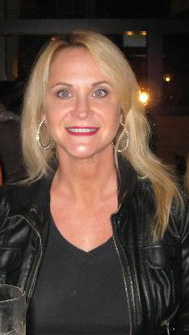 Growing up in St. Bernard Parish in southeast Louisiana, Brooke Andry loved being on the water. She grew up across from the Mississippi River, and when she was too young to fish, her family had a camp in Hopedale, Louisiana, where she loved to crab off the pier with crab nets and go for boat rides. As she got older, Brooke spent much of her time fishing in the Louisiana marshes with her father, Gilbert, and Uncle Jerry.
After graduating from St. Martin's Episcopal School, Brooke attended University of Miami, in South Florida, where she pursued a liberal arts degree focusing on art and business. Upon graduation from college, Brooke returned to New Orleans be close to her family and friends. She reclaimed her place on the boat with her father and uncle, and began fishing with them on the weekends. Professionally, Brooke began renovating residential properties in the metropolitan area and opened a custom frame shop. After several years in the framing business, Brooke decided that she wanted to go to law school so that she could join the family law firm. She attended and graduated from Tulane University's School of Law, obtaining her juris doctorate. She practiced law passionately with her father and brothers in the field of civil litigation. While practicing law, she continued to renovate properties and obtained her general contractor's license from the State of Louisiana. After approximately 8 years, she decided to pursue construction full-time, and reduced her legal practice to part-time. In the latter part of the 1990s, Brooke's family purchased and renovated a home in Port Eads, Louisiana, which is located at the mouth of South Pass where the Mississippi River intersects with the Gulf of Mexico. The only way to get to this house is by boat or seaplane as this town is surrounded by water. Needless to say, fishing became a full weekend affair year round.

Then Hurricane Katrina hit southeast Louisiana. Brooke returned to the New Orleans area within ten days of the devastation, prepared to work. She employed multiple crews, who gutted and cleaned out people's life-long homes and properties, including her personal home and properties. She worked in Orleans, St. Tammany, St. Bernard, and Plaquemines Parishes. The fishing house at Port Eads, which we named Mouth of the Riverhouse, was damaged from the hurricane winds and was uninhabitable.

While in Plaquemines Parish, which was one of the hardest hit areas by Katrina, Brooke realized there was no lodging accommodations, grocery stores, or restaurants in the area for workers and anglers, including herself. Just months after Hurricane Katrina, Brooke purchased a property in lower Plaquemines Parish. She worked aggressively to restore the 12 boat sheds on the property. Also, she fought the elements and environment to add (3) new 3 bedroom/2 bathroom modular homes with fully equipped kitchens to property. She completely furnished each unit like a Florida condominium with a fishing lodge flair. Each unit has all of the amenities of home and sleep 7 to 9 people comfortably, with everyone having his own bed. Brooke added screened exterior wood porches to each unit so that guests can sit out and enjoy themselves while they grill out. This property became known as Kingfish Lodges & Boat Storage, LLC, and it opened for business in April of 2006.

While she was developing the Kingfish Lodges & Boat Storage location, Brooke purchased approximately 8 acres nearby, next to the Mississippi River and cleared it. She added (3) new 3 bedroom/2 bathroom modular homes and completely furnished them with all of the amenities of home with a fishing lodge flair. The addition became additional private rental homes under Kingfish Lodges. Additionally, Brooke renovated the property, which included a very large 5 bedroom house, which included about 6000 square feet of living, and a commercial building. She added large exterior wood decks and lush landscaping. Then she added (2) more new modular homes, decks, and more. This became The Venice Palms Lodge & Private Rentals.
Call Today For Availability...
(504) 475-7368 [RENT]
or
EMAIL US
.